Recommended for Grades 1-4.
Wishing Star Productions proudly presents
a musical originally produced by Casa Mañana
Based on the book by Kelly S. DiPucchio
Book, music and lyrics by Joan Cushing
When Grace's teacher reveals that the United States has never had a female president, Grace asks "Where are the girls?" , as her third-grade teacher rolls out a poster of all 44 U.S. presidents. Frustrated by the lack of female faces in the White House, Grace decides she wants to be the first female president. Grace immediately starts off her political career as a candidate and initiates a mock school election. She seems the likely winner until the most popular boy runs against her.
In this timely story, the basics of elections, from campaigns to the complexity of the electoral college are explained in a way that is clear and age appropriate.  Offering an inspiring example perseverance, courage, and independent thought of how to choose our leaders. Join Grace and her classmates on a musical theater journey through the throes of campaigning and pep rallies, service projects and posters, as Grace and her classmates discover what it takes to be the best candidate.
ABOUT THE PRODUCER:
WISHING STAR PRODUCTIONS LLC, Based in Abilene Texas, produces live theatre the entire family can enjoy. Best known for creating the North American tour of Rudolph the Red-Nosed Reindeer the Musical (adapted from the famous 1965 TV special by Rankin Bass) , Wishing Star spent several years bringing a 'holly-jolly' Christmas to the US and Canada. Most recently, they have produced Alway…Patsy Cline, and the Texas cult-classic, Greater Tuna. Wishing Star is proud to hop on the campaign trail with Grace and bring Grace for President to America.
For more information about tickets for school groups, contact, Kate Meacham at kmeacham@olemiss.edu or 662-915-6502. Tickets available only to schools or homeschool organizations.
Download the ticket reservation request form or complete online request form.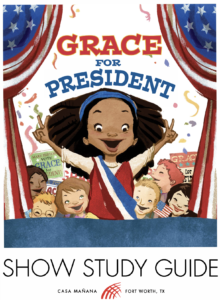 Subscribe and never miss an update
Subscribe to the Ford Center Email Newsletter to receive updates on new shows and programs directly to your inbox.
Subscribe Now
Thank You to Our Sponsors