About Gertrude Castellow Ford
With an ever-inquisitive mind, Gertrude Castellow Ford fully embraced the arts. As a patron, an observer and a practitioner, Mrs. Ford engaged in a lifelong exploration of all things of beauty and inspiration. Not afraid to raise challenging concepts in literature, especially in researching the authorship of Shakespeare's plays, Mrs. Ford held true to classic traditions in the fine arts. Fluent in French, Latin and Spanish, Mrs. Ford was an accomplished flautist, violinist and pianist. Exceedingly well-read in poetry and classic literature, Mrs. Ford was often at the center of spirited discussions about the merits of all manner of literary works. Always at the very foundation of her spirit was a great and sincere love of the arts and letters.
Raised in a generations-old tradition of philanthropy, which began more than 150 years ago with a $25 donation from her family to the Andrew Female College Building Fund in Randolph County, Georgia, Mrs. Ford established the Gertrude C. Ford Foundation in Jackson, Mississippi, with a very generous gift in 1991. In 1998, the Ford Foundation awarded The University of Mississippi $20 million to design and build the Gertrude C. Ford Center for the Performing Arts on the Oxford campus. At six stories tall and 88,000 square feet, the Ford Center features two performance spaces, state-of-the-art theatrical production facilities, excellent acoustic qualities, well-appointed lobbies and comfortable seating for 1,177 in the main hall. This regal facility is a physical testament to a life well lived.
Mrs. Ford died in September of 1996. She and her husband, Aaron Lane Ford, who was an Ackerman attorney and U.S. congressman representing what was Mississippi's 4th District, are buried in Cuthbert, a small town in southwest Georgia.
The Gertrude C. Ford Center
The Gertrude C. Ford Center for the Performing Arts officially opened on Friday, March 28, 2003 with an inaugural gala hosted by Robert C. Khayat, Chancellor of the University of Mississippi and starring Morgan Freeman as master of ceremonies. A cast of University alumni appeared together with a dozen university ensembles from the departments of Music and Theatre.
The Ford Center became a reality in 1998 with a gift of $20 million from the Gertrude C. Ford Foundation. The State of Mississippi contributed $500,000 for initial planning followed by an appropriation of $10 million for construction of the Ford Center. The construction was completed in December of 2002.
Since that time, the Gertrude C. Ford Foundation has contributed funds to purchase land for the Gertrude Ford Boulevard, for support staff positions, programming and to support a growing live radio broadcasting initiative. The Ford Center operations are largely funded by private contributions.
The Ford Center houses an average of 150 events annually. It is the centerpiece of the University's cultural and scholarly mission to present the finest in the performing arts and visiting lecturers. Prince Edward, the King of Jordan, Janet Reno, Cornell West, James Earl Jones, Thomas Friedman are among a growing list of authors and noted intellectuals that have appeared in the Ford Center. Morgan Freeman, Hal Holbrook, Art Garfunkel, Marty Stuart, The Blind Boys of Alabama, B.B. King, Vince Gill and Michael Bolton are only a few of the performers that have appeared on the stage of the Ford Center in a vigorous schedule of performances that also includes national tours of Broadway shows.
"Concerto" Statue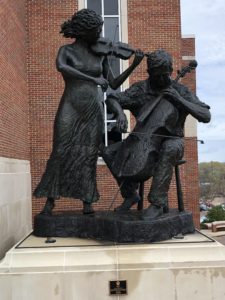 "Concerto" is a seventeen-foot bronze statue of a violinist and a cellist by Mississippi sculptor, Rod Moorhead. Moorhead also created the state
of a life size sculpture of James Meredith for the Civil Rights Memorial and the figure outside of the Paris-Yates Chapel.