Matt Zerangue
Technical Coordinator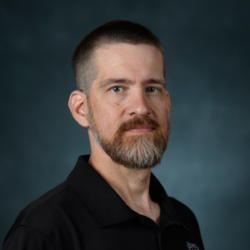 662-915-6619
mattz@olemiss.edu
Matt earned a BFA in Performing Arts with a focus on Theater Design and Technology from the University of Louisiana, in 1999. Matt is Cum Laude graduate. While a student at UL, Matt served as the Theaters Scene Shop Forman and Assistant Technical Director.
Prior to coming the Ford Center in September 2004, Matt was the Technical Director for the Angelle Hall, The University of Louisiana's Concert Hall. He is a scenic and lighting designer. His work includes several seasons with Oxford Shakespeare Festival, Ole Miss Opera, UL Opera and UL State of La Danse and Lafayette Ballet Theatre.
He is an U.S. Army Veteran. Having served four years of active duty and four years in the Louisiana National Guard, Matt worked as a Medical Specialist. Duties performed during his enlistment ranged from Medical Assistant on the Organ Transplant Ward of Walter Reed Army Medical Center, to the Treatment Non-Commissioned Officer in Charge of the Forward Aid Station for Louisiana's Mechanized Infantry Battalion. Awards and recognitions during service include the Expert Field Medical Badge, Soldier of the Year recognition twice awarded, and several Army Achievement Medals.