Julia Aubrey
Director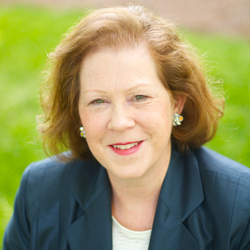 662-915-6669
jaubrey@olemiss.edu
Julia Aubrey, associate professor, is Director of the Ford Center and serves as Director of Opera Theatre in the Department of Music. She earned a master of music in vocal performance and a master of arts in theatre from the University of Missouri – Columbia. In January 2012, Julia was elected president of the National Opera Association. She served as NOA president-elect from 2010-2012, vice-president of regions from 2008 – 2010 and governor for the Southeast Region from 2001 to 2007. The award-winning UM Opera Theatre placed first in the NOA Collegiate Opera Scenes Competition in 2011 and first place in 1999 in the NOA Opera Production Competition. Professor Aubrey's research project Living Masterpieces: An Improvised Opera Exercise has been featured on tours, festivals, and was selected for presentations at national conventions in Philadelphia in 2001, Kansas City in 2004, and was one of three programs invited to perform at the Mid-West Opera Festival in 2003. Professor Aubrey served as the Guest Artist Opera Stage Director for the Fairbanks Summer Arts Festival in Alaska from 2003 to 2005. Before her tenure at the University of Mississippi, she staged operas for the Quad City Mozart Festival and opera and operetta productions at the University of Missouri-Columbia. Ms. Aubrey is also a member of APAP, PAE, and NATS.
In 2015, Julia served as Artistic Director and Stage Director for the world premiere (Ford Center) and European premiere (Prague, Czech Republic) of Hamlet, Prince of Denmark.  Written by alumna, Dr. Nancy Van de Vate, this new work included professional guest artists, faculty, and graduate students in leading roles and in the orchestra, undergraduates, and a professional staff of designers. The process of producing this new American opera was featured in two documentaries produced by MPB and Southern Documentary.
Professor Aubrey was associate artistic director of the Oxford Shakespeare Festival, serving as stage and musical director for The Pirates of Penzance, H.M.S. Pinafore, The Mikado, Iolanthe, The King and I, Camelot, and The Sound of Music. She has also served as musical director for the UM Department of Theatre, assisting in productions of West Side Story, Joseph and the Amazing Technicolor Dreamcoat, How to Succeed in Business, The Man of La Mancha, Cabaret, Chicago, Anything Goes, The Rocky Horror Show, Footloose (as conductor and musical director), Company, and The Drowsy Chaperone. Julia and her husband, Dr. Robert H. Aubrey, have offered a Youth Music Theatre Workshop each summer since 1996, designed for students age 8 to 17 to encourage skill development in singing, acting, and movement for music theatre. The performances of the group include original works written by professor Aubrey and children's versions of operetta and musicals.