Jennifer Pardoe
Box Office Supervisor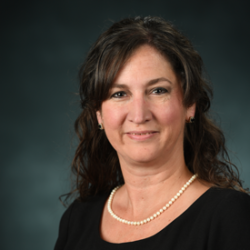 662-915-7412
jgpardoe@olemiss.edu
Jennifer began her association with the Ford Center as Senior Staff Assistant when it opened in 2003. From 1998 to 2001, she worked for the University of Mississippi Department of Human Resources and then moved to St. Petersburg, FL as an employee of End2End, Inc.  In September 2011, Jennifer moved to the UM Box Office as Supervisor. Here she oversees all aspects of the box office on a day-to-day basis, including supervising student workers, maintaining contracts for ticket sales, setting up web sites, and ticket processing.
One of the largest projects Jennifer instituted since coming to the Box Office is the mobile ticket system that utilizes Wi-Fi.  This has been done successfully at the Jackson Avenue Center, Overby, and North Oxford Baptist.  Jennifer has served on Staff Council and volunteered with the Green Grove Initiative.
Jennifer holds a degree in Business Administration from the University of Mississippi.