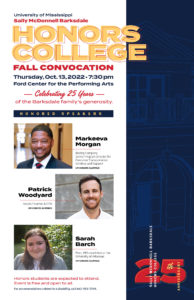 Honors Fall Convocation on October 13th
The Sally McDonnell Barksdale Honors College invites you to attend the Honors Fall Convocation on Thursday, October 13th, beginning at 7:30pm at the Ford Center for the Performing Arts. The SMBHC will be celebrating its 25th anniversary by welcoming the Barksdale family along with honored speakers and honors alumni, including Markeeva Morgan, Patrick Woodyard, and Sarah Barch.
Honors students are expected to attend. The event is free and open to all.
For accommodations related to a disability, call 662-915-7294.
Subscribe and never miss an update
Subscribe to the Ford Center Email Newsletter to receive updates on new shows and programs directly to your inbox.
Subscribe Now
Thank You to Our Sponsors